Released: January 2nd, 2014

Growing up the way I did, you'd think I'd be more screwed up than what I actually am.

Soon as I turned sixteen, I left that bump in the road I called home and took my chances on the street.

Best decision I ever made.

Now, at the age of twenty six, I'm educated, employed and damn good at my job.

My friends have become my family. Like me, they know what it's like to grow up unloved.

But the saying is true.

The world makes way for those who know where they are going.

That's me.

I know where I'm going and I'll get there eventually. On my own terms and at my own pace.

But then there's him.

I feel his eyes on me. I see him hiding in plain sight. He watches me.

He makes me feel.

It's unconventional.

But it's real.

I'm sure you're wondering how a person falls in love with their stalker.

So am I.

This isn't a story.

This is my life.
"We're all addicted to something that takes away the pain."
**COPY PROVIDED BY AUTHOR FOR AN HONEST REVIEW**
This twisted novel was one of the most exhilarating, frustrating, goddamn awesome reads I've had this year. The characters all left such a huge impact on me from the main roles to the supporting ones. Each and every one of them was vital to the development of the story. This is a story that absolutely did NOT disappoint. I look forward to more work by Belle Aurora (and possibly a sequel to that horrifying cliffy). Seriously though.
I jsut. The ending killed me okay. IT MURDERED ME. CHOPPED ME UP TO PIECES.
My first thought after the book ended:
Yes, I was that close to throwing my book (iPad) away after reading that one tiny part. And then it turned into this (which included me rolling in my tears)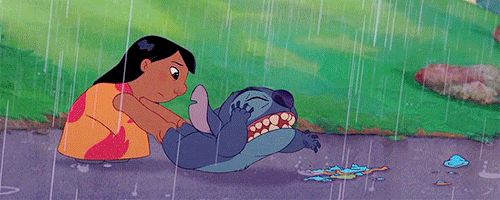 Sweet Jesus, this book ruined my life. In a good way.
I think Belle Aurora's trying to compete with J.K. Rowling and Suzanne Collins. The SPOILER ALERT character deaths END OF SPOILER tore me APART. Like to pieces.
Anyway, let's move on to the characters. Wow. Lexi is sweet. She's independent, hard-working and super caring. I remember how much she loved Michael, how she's always so thoughtful and considerate of him. Very motherly.
Then there's the connection between Lexi and Twitch (yes they call him Twitch).
He's a raging fire. And I'm a fragile moth fluttering into the flame. Sooner or later, I'm going to get burned. I know this.
AAAAH ALL THE FEELS ARE FLOODING INSIDE ME.
We've also got Twitch who's a mysterious man. Goddamn. He's sexy, gritty, powerful, mm-mm, alpha male too! My kind of man.
There's something about Twitch. He's just… raw. Everything about him is raw. And gritty. And unbound.
Amen to that, sister.
Honest to God, this story was so fucking intense. Like, really intense. It was sort of a dark romance I guess, definitely not as dark as Pepper Winters' (because those are terrifying but fantastic) but this one is equally as awesome!
One teensy problem was the rush in the "I love you" department. However, really fucking good backup with the sexual and emotional chemistry.
Thus, I loved it. And I've been recommending it to everyone I know and now it's also you guys. READ IT!!!
Puh-lease, write a sequel for this!
MY RATING:
4.5 APPLES!!!!!
✭ BUY LINKS ✭
(Click book cover for Goodreads link)

♕ Raw ♕
Belle Aurora is twenty six years old and was born in the land down under.
At an early age she fell in love with reading. Boredom one summer had her scouring the bookshelves at home. She stumbled across Sandra Brown's Breath of Scandal and fell in love with romance.
Having been brought up in a loud and boisterous family of Croatian descent, she developed a natural love for dramatics and humor. Only some years ago had she discovered a new love.
Humorous romance novels.
Kristen Ashley and R.L. Mathewson had opened a brand new world where she could lose herself yet feel safe and at home in their stories. Belle has been known to become a screeching banshee while anxiously awaiting their newest titles.
Belle never thought she would write. It had never interested her until recently. Friend-Zoned began to form and in February this year Belle typed the words Chapter One. And she fell in love.
With words.
With writing.
With a creative imagination she never knew she harbored.
Friend-Zoned is the first in the Friend-Zoned series. Keep an eye out for this cheeky author.
Check her out in these sites:
✻ ✻ ✻