Released: July 1st, 2014

The Beautiful Disaster and Walking Disaster phenomenon continues in the first heart-pounding new adult romance in The Maddox Brothers series.

Fiercely independent Camille "Cami" Camlin gladly moved on from her childhood before it was over. She has held down a job since before she could drive, and moved into her own apartment after her freshman year of college. Now tending bar at The Red Door, Cami doesn't have time for much else besides work and classes, until a trip to see her boyfriend is cancelled, leaving her with a first weekend off in almost a year.

Trenton Maddox was the king of Eastern State University, dating co-eds before he even graduated high school. His friends wanted to be him, and women wanted to tame him, but after a tragic accident turned his world upside down, Trenton leaves campus to come to grips with the crushing guilt.

Eighteen months later, Trenton is living at home with his widower father, and works full-time at a local tattoo parlor to help with the bills. Just when he thinks his life is returning to normal, he notices Cami sitting alone at a table at The Red.

As the baby sister of four rowdy brothers, Cami believes she'll have no problem keeping her new friendship with Trenton Maddox strictly platonic. But when a Maddox boy falls in love, he loves forever—even if she is the only reason their already broken family could fall apart.

In the first installment of the Maddox Brothers books, readers can experience the rush of reading Beautiful Disaster for the first time, all over again.
"That my purpose in life was to love you and keep you safe . . . but I didn't prepare for having to share you."
Beautiful Oblivion, similar to other of McGuire's books, was heart-wrenchingly awesome. There's no other word for it. Trent Maddox is one of a kind and so is Cami. They had such a fantastic connection.
WOOOOW. Okay, um, Trent, I love you. I just freaking love you. He was such a determined character even though it's probably morally wrong to chase after a woman who's already got a boyfriend. But he's Trent Maddox. So I forgive him.
Well, Trent had a good reason to do so anyway. He'd watched Cami from afar for far too long (which I wished we had a background to) and now he's going after her. Unfortunately, Cami is taken by T.J., her boyfriend who's in California.
Trent is fucking adorable though when he's chasing her.
He's so goddamn sweet and alwkejrwlerj just so cute!
"I was just thinking now was as good a time as any to acknowledge that you're perfect and it wouldn't suck if you fell madly in love with me anytime soon."
So, um, how do you not fall in love with him?
However, Trent also had a bit of a fault. I felt, like Travis, he was a bit too desperate. Some of his lines were too cheesy and it seemed as if he was just this weak character instead of the admirable hero he is.
Cami is also fucking awesome. She acknowledges her problem, how she's in love with two people at the same time. Although she, like Abby too, came off as annoying towards the end, I liked her character.
Unfortunately, what pissed me off was – like Beautiful Disaster – it seemed as if Trent liked Cami more than she him. I mean, there's this fantastic guy who's so in love with you and then Cami seemed to take it for granted.
BUT, another big but, the ending totally killed it. Like it was just such a fucking WTF kind of ending that just blew my mind. And I absolutely loved it! I LOVED THE ENDING. I was just like, "Wait what? HOLD UP!" AND IT WAS THE LAST LINE. Such great emphasis.
MY RATING:
4.5 APPLES!!!!!
✭ BOOK LINKS ✭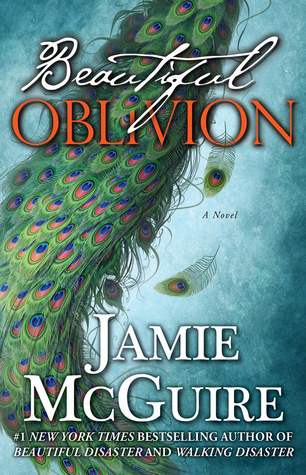 (Click book cover for Goodreads link)

♕ Beautiful Oblivion (Maddox Brothers #1) ♕
Jamie McGuire was born in Tulsa, OK. She attended the Northern Oklahoma College, the University of Central Oklahoma, and Autry Technology Center where she graduated with a degree in Radiography.
Her most recent novel, Walking Disaster debuted at #1 on the New York Times, USA Today, and Wall Street Journal bestseller lists. She has also written bestselling contemporary romance Beautiful Disaster, and the Providence series.
Jamie now lives in Enid, OK with her three children and husband Jeff, who is a real, live cowboy. They share their 30 acres with six horses, three dogs, and Rooster the cat.
✻ ✻ ✻