Released: April 23rd, 2011

Is love in the cards?

Since birth, Lexie Berry has had nothing but bad luck. Orphaned at an early age, she had a rough childhood and a boyfriend who was murdered. Now the beautiful, stylish Lexie is determined to change her luck and her life. But first she's got to make good on a promise: to pick up Ty Walker from prison. One look at the gorgeous ex-convict and Lexie knows she's in trouble-and already thinking about taking a walk on the wild side . . .

For five years, Ty was imprisoned for a crime he didn't commit. Now he wants revenge on the people who framed him. Yet when the high-stakes poker player sees the leggy Lexie, he suddenly has other desires on his mind. Realizing that Ty is innocent, Lexie tries to stop his plan for vengeance and help him become a better man. But as Ty battles his inner demons, dirty cops and criminals plot to take him out. Can he and Lexie find a way to escape the past?
"Everything worth something is worth a try."
Better than the first two of the series, Lady Luck alternates between the perspectives of Ty and Lexie. Two fierce characters who are both stubborn as hell and equally as fucking fantastic. The chemistry was explosive and the romance boiling hot.
I LOOOOVED IT. Jesus Christ, this is Kristen Ashley at her best. I loved every bit of it, even the parts where Ty was all caveman-like. I sometimes get pissed off over how rough they are but then, this time, it was just *deep sigh*
Okay, so what I liked most was the structure of this book which definitely veers off Kristen's usual track. Usually we get the male POVs towards the end of the book and it's usually during the climax. But this one, we get Ty almost throughout the whole thing.
I love how we get a glimpse into his mind because, well, boys are hard to figure out, especially the heroes in Kristen's books, because they're all crude and everything. It's really fucking cute.
Then he noticed her lips were pressed together, he guessed as to why and reminded her, "Time to bolt is over. You're wearin' my rings."

Her head jerked and she declared firmly, "I'm not going to bolt."

The tightness in his chest he hadn't noticed until he heard her words released.
Wow. That last line just said more than a paragraph ever could. Simple, powerful. Perfect.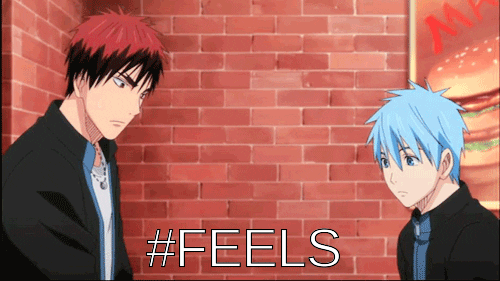 (That gif is from my favorite anime just an FYI)
Ty is actually really fucking cute and I just love him so much. He fucks up a couple of times, like really badly, and wow, the way he grovels is just wow. I LOVE YOU, TY. He loves the light that Lexie radiates into the world and when it disappeared, he panicked.
Lexi is also another favorite of mine because of her sass. She's straightforward and classy and sexy in one package. Even though her past kind of sucks, she still grew up to be a fantastic woman. And very, very protective of her man.
"And I don't know what he's going to do or how long it's going to take. So Something has to give because there's a bitch in this town who needs a lesson and I'm the teacher."
Per-fect. I loooove her so much I swear to God.
This book was just amazing. Read it. 'Nuff said.
MY RATING:
5 APPLES!!!!!
✭ BOOK LINKS ✭
(Click book cover for Goodreads link)

♕ The Gamble (Colorado Mountain #1) ♕
Kristen Ashley was born in Gary, Indiana, USA. She nearly killed her mother and herself making it into the world, seeing as she had the umbilical cord wrapped around her neck (already attempting to accessorise and she hadn't taken her first breath!).
Kristen grew up in Brownsburg, Indiana but has lived in Denver, Colorado and the West Country of England. Thus she has been blessed to have friends and family around the globe. Her posse is loopy (to say the least) but loopy is good when you want to write.
Kristen was raised in a house with a large and multi-generational family. They lived on a very small farm in a small town in the heartland and existed amongst the strains of Glenn Miller, The Everly Brothers, REO Speedwagon and Whitesnake (and the wardrobes that matched).
Needless to say, growing up in a house full of music, clothes and love was a good way to grow up.
And as she keeps growing up, it keeps getting better.
Check her out in these sites:
✻ ✻ ✻