Released: September 15th, 2011

Daunted by the singular tastes and dark secrets of the beautiful, tormented young entrepreneur Christian Grey, Anastasia Steele has broken off their relationship to start a new career with a Seattle publishing house.

But desire for Christian still dominates her every waking thought, and when he proposes a new arrangement, Anastasia cannot resist. They rekindle their searing sensual affair, and Anastasia learns more about the harrowing past of her damaged, driven and demanding Fifty Shades.

While Christian wrestles with his inner demons, Anastasia must confront the anger and envy of the women who came before her, and make the most important decision of her life.

This book is intended for mature audiences.
"You're the only person I'd fly three thousand miles to see."
After rereading this for like the hundredth time, I still found Darker to be the best book of the trilogy. This is where the romantic connection and explosive chemistry were most prominent. Christian and Ana overcome more and more hurdles in their relationship, including trust, family, and past lovers.
I really liked the book, I really did. But I just have to mention that Ana saying "Oh my" and her inner goddess are really unnecessary. Much, much better details could've been added instead of that. Plot-wise, this book is fucking amazing, but the writing style I'm not a big fan of.
But anyway, YAY. In this book, it's waaay more intense and after the cliffy in the first book, this book just comes as a true joy. Christian Grey is the love of my life.
Honestly Ana pissed me off a lot in this book. Although some of her issues were rational, some others were just so selfish and dumb. I was just like, "What the fuck is wrong with you?"
Anyway, I'd rather talk about Christian Grey (cue the screaming fangirls) He is the ultimate man. Like really, if there was a perfect man, it'd be him. Aside from his fear of being touched, Christian is a man who would do anything for a woman he loves. I just… GOD I LOVE HIM SO MUCH
"This is me, Ana. All of me… and I'm all yours. What do I have to do to make you realize that? To make you see that I want you any way I can get you. That I love you."
He is mercurial, as I would describe him in Ana's terms. He's hot one second, cold the next. He can be super sweet then turn into a raging beast.
"I don't know whether to worship at your feet or spank the living shit out of you."
God, when he kind of cracked that one time in the book, I cried. I CRIED READING THAT SCENE AND IT WASN'T EVEN SAD. Imagining Christian who is so strong and powerful be in such a vulnerable state broke my heart completely.
This book is just so goddamn amazing I can't. I'd love it completely if it wasn't for the weird details and Ana being a bitch. But Christian Grey, will you marry me?
MY RATING:
6 APPLES!!!!!
✭ BOOK LINKS ✭
(Click book cover for Goodreads link)

♕ Fifty Shades of Grey (Fifty Shades #1) ♕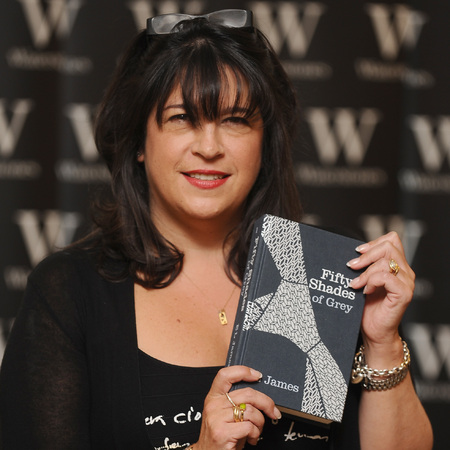 E.L. James is TV executive, wife and mother of two, based in West London. Since early childhood, she dreamt of writing stories that readers would fall in love with, but put those dreams on hold to focus on her family and her career. She finally plucked up the courage to put pen to paper with her first novel,
Fifty Shades of Grey
. E.L. James is currently workong on a new romantic thriller with a supernatural twist.
Check her out in these sites:
✻ ✻ ✻