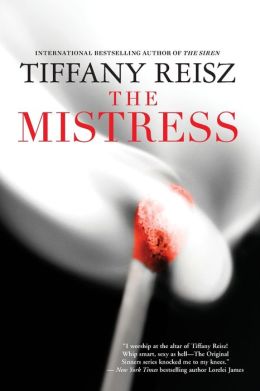 Released:
July 30th, 2013

There's punishment - and then there's vengeance.
Nora Sutherlin is being held, bound and naked. Under different circumstances, she would enjoy the situation immensely, but her captor isn't interested in play. Or pity.
As the reality of her impending peril unfolds, Nora becomes Scheherazade, buying each hour of her life with stories - sensual tales of Søren, Kingsley and Wesley, each of whom has tempted and tested and tortured her in his own way. This, Nora realizes, is her life: nothing so simple, so vanilla, as a mere love triangle for her. It's a not in a silken cord, a tangled mass of longings of the body and the heart and the mind. And it may unravel at any moment.
But in Nora's world, no one is ever truly powerless - a cadre of her friends, protectors and lovers stands ready to do anything to save her, even when the only certainty seems to be sacrifice and heartbreak . . .
"I gave them my death as a gift . . . and now I'm taking my gift back."
WARNING: DO NOT READ IF YOU HAVE NOT READ FROM THE BEGINNING. MAJOR SPOILERS!!!
And I can assure you that the series
is most definitely not a disappointing read
.
So, if you haven't read it, SHOO! VAMOOSE! (is that how you spell it?) and go read it first! For those, who have, you may enter ;)
FUCK FUCKETY FUCK HOLY SHIT. Pardon my French, Kingsley would've been proud. This book was so freaking intense.
I AM SO NOT OKAAAY. But it wasn't with the ending. Fuck, Tiffany Reisz wrote another beautiful book with the same hilarious, captivating, bewitching, enlightening characters and such engrossing, horrifying, passionate plot. This book gave me so much feels especially with Søren. My God, that man scares me half to death and fascinates the fuck out of me. He's just so different and intriguing.
So, if you've read the first three books then you know what's going on, so I'm going to go and spoil it, since it was mentioned in The Prince. Marie-Lurie, Søren's psychopath bridezilla, had captured Nora. The third book's ending was a cliffhanger so I'm just so damn happy that this one had a real ending.
Okay, honestly, I thought this one was going to be pretty boring and, fffuuuu, Tiffany has done it again. I mean, the blurb sounded so casual. I've been disappointed so many times by books that had such great first novels that ended with a cliffy and then continued in the second book. The second one was fucking horrible. I mean it, it's usually so bad that I want to weep that the author ruined such a good series. But, damn, did Mistress Reisz prove me wrong again.
Marie-Lurie apparently didn't die when Søren and Kingsley were still at St. Ignatius. She faked her death and escaped to live life for a while. Until a coincidental sighting reminded her of all the pain in her past. So she's ready to seek revenge. Her targets? Her husband and brother.
The only way to hurt Søren was to threaten his Little One, and that was Nora. So holy shit. That's exactly what she did. If you know Søren, then you should definitely be afraid of him. Everyone is. Well, with the exception of Nora, who well, doesn't fear anyone basically. Yes, Marie-Lurie had some real guts to hurt Søren.
The book kept alternating between third person point of views. Omniscient of course. With Nora, you get to hear her exciting, super sexy tales of her sexcapades with Søren, Kingsley, Wes and Griffin. With Grace (YES! Zach's wife does show up here), you get to see how she feels about everything: Søren, Nora's abduction, the world her husband was in awhile back. With Kingsley, you get to feel his despair and pain as he faces the possibility of losing the one man he's ever loved. With Wes, you could hear the panic and worry he goes through while thinking about Nora's safety. And finally, with Laila (Søren's darling niece), you see how much she loves her 'onkel' and 'tante', how she's worried for them both, and also how she falls in love.
And of course, Søren's thoughts remained untouched, which I absolutely loved from Tiffany Reisz. She keeps Søren's mysterious vibe going. But, I LOVED LOVED LOOOOVED how she made Søren open up more in this book. In the previous books, we see this man who's so close and alike to God, who everyone worships and fears and loves. He seems so untouchable. But here, we see his human side. The author creates Søren as a character so complex. He seemed so fearless at first but then his most beloved gets taken away from him, and he becomes so vulnerable and hurt. He panics and freaks out. He goes through so many complicated emotions because he lost his Little One.
When Søren and Nora first met, he knew straightaway that he belonged to her and she did him:
"Because there is nothing I wouldn't do to protect you, Eleanor. Nothing I wouldn't do to help you. And nothing I wouldn't do to save you. Nothing."
HOLY SHIT RIGHT. And God, I love Nora and Søren together because they're lovers and they're somehow best friends too. Only Nora knew how to be so fearless when facing Søren.
Grace: "You call her Little One?"
Søren: "I always have. She was a teenager when we met. A very ill-mannered teenager. She demanded to know why I was so tall. She insinuated I had grown this tall simply for attention."
Grace: "Only Nora could be rude and flirtatious at the same time."
Søren: "I explained to her that I was tall so I could hear God's voice better. And since I was taller and could hear Him better, she should always listen to me. That didn't sit very well with her. She retorted the next day with a verse from Psalm 114. 'The Lord keeps the little ones.' Her biblical proof that God prefers short people. I started calling her Little One after that."
OH, and another of my favorites:
Søren: "She wasn't [terrified of him]. You know her first words she ever said to me . . . I remember them like yesterday. She said, 'You're kind of an idiot, you know that, right?'"
Honestly, I could go on and on about how flawless this book is. The characters were so amazingly developed. We see how they've changed and grown from the previous books, aside from Nora of course. Even when facing death with Marie-Lurie, she's still the funny person she usually is.
Marie-Lurie: "Simply trying to see what he sees in you. My husband, I mean. I'm not finding it yet."
Nora: "I give great head."
JESUS CHRIST NORA. THIS WOMAN COULD KILL YOU AND THAT'S WHAT YOU SAY
Marie-Lurie: "I even gave him until noon on Friday to make up his mind about us. High noon. I've seen too many movies, haven't I?"
Nora: "And not enough therapists."
Marie-Lurie: "You're disgusting."
Nora: "I'm doing the French thing. I'm down to one shower a week."
This book made me laugh like a hyena with Nora, cry like a freaking baby with Søren, and piss my pants worrying with all the tension and suspense in the book.
A DEFINITE MUST MUST READ.
The Original Sinners
Series is flawless and beautifully written. If you're really into erotica and you can handle extreme BDSM scenes, this is the series for you!
Minor Faults:
MY RATING:
About The Author:
Tiffany Reisz lives in Lexington, Kentucky with her boyfriend and two cats. She graduated with a B.A. in English from Centre College in Danville, Kentucky, and is making both her parents and professors proud by writing BDSM erotica under her real name. She has five piercings, one tattoo, and has been arrested twice. When not under arrest, Tiffany enjoys Latin Dance, Latin Men, and Latin Verbs.
Check her out in these sites: