Released: April 28th, 2014

You don't choose when.

You don't choose where.

And you don't get to choose who you fall in love with.

The minute he opened his sexy mouth, Holliday Hughes should have known Jack Dalton was trouble. His smooth pickup lines, broad shoulders, and ridiculously handsome face charmed her right out of her clothes. She gave into her desires, the instant attraction blinding her to the obvious.

One night. That was all it took for Holliday's world to be flipped on its axis. Jack Dalton was cocky. Smug. Volatile. Demanding. He ignited something deep inside her like no other, but there was something more to this brooding bad boy. There was a dark side to him she couldn't help but be drawn to.
Torn between what she knew about him and a mysterious side he tried to hide, could she walk away or was he simply too hard to resist?

"You're the calm to my storm."
*COPY PROVIDED BY AUTHOR FOR AN HONEST REVIEW*
The Resistance
is one of my favorite romances. Jack Dalton is smoking, crazy good in bed, a wooing expert, and also complicated. Then there's Holliday Hughes who's successful, sweet, and sexy as hell; the triple threat. Together, they have an electric connection that you can't possibly break apart. This novel was sweet, funny, thoughtful. A delicious combination!
WHOOO!!! Wow, oh wow, I finished this book in a day. I managed to squeeze in time during car rides to finish up this book and didn't shower until late just to finish the last pages. This book was WOW!!!
In the beginning of each chapter, we have quotes by this Johnny Outlaw. I thought this dude was like some famous musician I didn't know but well, he wasn't. Anyways, it was pretty evident what was going on there. Nice work, Ms. Scott, nice work.
But I loved the instant connection they had. It wasn't the "love at first sight" kind of thing. But they actually connected despite the short time period. They talked and revealed more to each other than they do with others, even with the simple stuff. It was sweet and extremely thoughtful.
I mean, we've got a terrific combo.
Jack Dalton, who is an expert, swoon-worthy ladies man.
"If you want the food that's currently getting cold inside, you can have it. You want to have sex, let's fuck. You can have anything you want."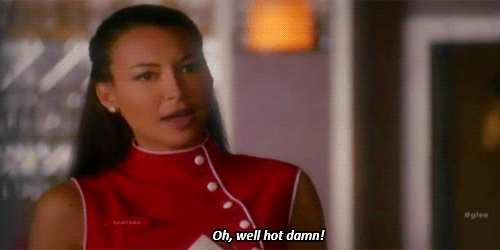 He's such a cutie when he's all innocent though. Trust me. I couldn't stop grinning until my face hurt whenever there was a part when he was vulnerable and worried. Too adorable!
Then we have Holliday Hughes, who's initially a cynic and a hardworking businesswoman. But then we see the sweeter side come out of her thanks to Dalton. (Oh and I loooove how they call each other Holliday and Dalton instead of Holli and Jack)
"So four hours is not enough time to memorize the two million, three hundred and fifty-six thousand other things that I wanted to learn about you."
God, but towards the end of the book, it was all so intense. With Dalton's more protective side and jealous streak acting up and the drama that unfolds. Not to mention that tiny plot twist that could allow S.L. Scott to compete with J.K. Rowling. Well, it wasn't that bad but definitely unexpected. Hot damn yo.
However, I thought that the book was lacking slightly in real romantic connection. I mean, yeah, their sexual attraction is sizzling, their emotional bond is palpable, but their romance, I wished they had more of that. Yes, it was probably due to occupational hazards but still…
Nevertheless, everything else was pure perfection!
MY RATING:
4.5 APPLES!!!!!
✭ BOOK LINKS ✭
(Click book cover for Goodreads link)
Wait. Don't go. Stay. Whether we have sex or not, I just want your company." His expression appears sincere, but he seems to have several sides to him.
With my back against the door, I keep my eyes on his. "Look. I don't sleep around… much. But I have slept with someone just because it was Wednesday." I shrug. "So I'm not innocent over here, but I work hard and I have a pretty crappy social life because of it. Sometimes it's nice to feel a warm touch that vibrates with excitement instead of a cold one that's battery-operated." I step forward as if I owe him more, more of an explanation, or more of me, I'm not sure. "Judge me if you must, but I'm in Vegas and now officially on vacation. And despite what you may think, I've only had the one drink so far today, so I'm not drunk. I'm a grown woman who appreciates a handsome face and the artistry of a tattoo that has meaning to the person wearing it. I actually thought we'd have dinner and a good time. All that came from somewhere pure, somewhere that now feels dirty, a little tainted. So I'm going now and if one day you find yourself not so lost in Los Angeles, you know my information."
I don't wait for a response or apology. I don't know Dalton well enough to know if he'd offer one anyway. So I go without looking back, passing the room service waiter on the way, and hop in an elevator that's for the exclusive use of the two penthouses.
Half expecting to hear him call after me, my finger hovers over the Lobby button, but I count to ten and when I don't hear anything, I push it. The doors start to close when a hand reaches in, stopping them. Dalton peeks around the corner with a big smile in place, and says, "Can we start over? Stay for dinner?"
"Because I like you. I like your honesty and I don't get much honesty in my line of work."
"You're an undercover narc. Of course you don't get much honesty. Isn't that why you got into the business?"
A sly smile crosses his face, revealing a small dimple in his cheek. A light sparks from within, reflecting in his eyes, and with a nod of his head, he says, "Come back. I'll feed you and give you the sex you came up here for. Because it's a Friday and while Friday may not be hump day, it's still a damn good day of the week."
My mouth drops open. "The sex? You'll give me the sex because it's Friday?" I roll my eyes while huffing, and then push the lobby button twice.
Stepping inside, he blocks the doors from closing and a buzz is heard from overhead. With his arms stretched wide, he looks into my eyes. "No. I mean, if you want the food that's currently getting cold inside, you can have it. If you want to have sex, let's fuck. You can have anything you want."
The elevator starts buzzing even louder, escalating its level of warning. Dalton spreads his feet apart to hold the doors open and reaches for me. "I'll even call you Holli since that's what you prefer."
He's sexy and when he's flirting with me, even sexier. I can't give in too easily though. I should make a few ground rules, or at least one. "I'll only come back on one condition."
a Rafflecopter giveaway
S.L. Scott is a former high-tech account manager with a journalism degree pursuing her passion for telling stories. She spends her days escaping into her characters and letting them lead her on their adventures.
Live music shows, harvesting jalapenos and eating homemade guacamole are her obsessions she calls hobbies.
Scott lives in the beautiful Texas hill country of Austin with her husband, two young sons, two Papillons and a bowl full of Sea Monkeys.
Her novels include Naturally, Charlie, Good Vibrations, and A Prior Engagement.
She welcomes your notes at sl@slscottauthor.com.
✻ ✻ ✻