Released: March 26th, 2014

"The monsters you really should be afraid of, don't need to hide in plain sight. The truly dangerous ones…have no need to hide."

When physical pain allows you to escape your reality; what do you do when the pain is no longer strong enough to quiet the emotional ache?

Diouana "Nikki" returned to her hometown six months ago to tend to her sick mother. She thought she'd left her "baggage" behind her on the opposite coast, only to find that it never left her side. As her self-destructive thoughts begin to consume her, her mother -- realizing Nikki's torment -- pushes Nikki to complete her last wishes.

Eric Brenton, Nikki's new neighbor, lives in a dark, chaotic world that is easily hidden behind his model good looks and cocky demeanor. Unapologetic about his dirtier intentions, he sets his sights on Nikki with an offer to help her. But his help comes with very unorthodox conditions and a huge price.

And Eric...comes with an extensive black box warning label.

Warning: Contains graphic language, frequent graphic sex, and dark themes.

"No matter how twisted and damaged we are, there's always someone out there who will love us as we are."
*ARC PROVIDED BY AUTHOR FOR AN HONEST REVIEW*
The Sordid Promise
was a dark, frustrating, hair-tearing book in a good way. It was so deep and mind-blowing. It made me want to throw the book out the window but also keep it close to me. I was just so confused whether I loved or hated this book. The writing style is undeniably captivating and the characters were all so beguiling. The story drew me in from the very start with the odd characters and also their shocking personalities that made me love them even more.
I was honestly so confused with my feelings for this book. At certain points, I love how their conflicts have finally ended so I thought, "Hey, they're finally getting their happily ever after." But then the author brings up more and more of their past that it kept me on the edge of my seat and had me screaming in frustrating (in a good way). It was just such a bewitching book. I couldn't put it down once I started.
Nikki's character was very interesting. I started out the book pissed off with her because she was anthropophobic (I totally googled that, it means she has social phobia). She has this sort of defense mechanism whenever people come close to her, she just insults them or tells them to fuck off. She doesn't care about any of them.
I'm…completely fucked up. My life and my past are completely fucked up. I'm so beyond messed up that there are numerous broken shards that even several years' worth of superglue can't fix.
And I have to admit, I was so fucking curious about what happened back then with her and her family, and once I learned more about her, I just went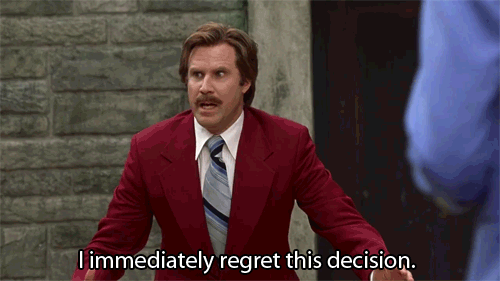 Then there's Eric who's even more fucked up. I'm not even joking. Christ, I could've sworn he was crazy. He reminded me of Clay from Find You in the Dark. He was fucking terrifying and probably psychologically damaged. But then again, who really isn't?
Eric has a fucking dirty mouth and brain. Trust me. Sometimes he can be discreet.
"I'll try my damnedest not to rip that dress off you before the night's over, but no promises."
Really, that's his mildest line from this book. Other times, which is most of the time, he just straight-up says it.
"I can't wait until I can make you beg for more than just my cock. And when I fuck you, baby, you're going to swear my cock was a gift from the heavens."
Oh and did I mention his egotistical nature?
Eric and Nikki fit together well. What she craves, he gives. What he needs, she provides. Although they are admittedly in a very destructive relationship built on lies and pain, they seem to also connect in a certain way that no other characters can ever connect. Somehow, through their fucked up pasts and mind-boggling thoughts, they managed to stay together and not murder each other. Well, not yet.
I was pissed off with how Nikki got easily sidetracked with Eric's method of deflection (sex). She was like his puppet and I hated how weak she was. But then when I learned more about them, I realized that that was exactly what she needed. And what he did. In the end, they somehow broke through some of their walls.
And they worked. According to Nikki…
He became… my angel of catharsis and my new addiction.
According to Eric…
"You are the center of everything. You have no idea how fucking monumental that is for me to say. Because, I love you, Nikki. I love you like I've never loved anyone."
And even the supporting characters were fantastic. They were just as deeply thought through as the main ones like Estelle, Melonie, Tamala, the mom. Oh God, I love Nikki's mom.
When she learned that Nikki finally let Eric in just a little bit…
"As I still breathe. Should i call the chaplain and the city clerk now? I have them on speed dial. Should I call up to the maternity ward and borrow an infant? Wonderful! i can die happy now."
And she is the one person who knows Nikki the best. She truly knows Nikki more than Nikki knows herself.
Wonderful, wonderful, dark, deeply thoughtful book!
MY RATING:
4 APPLES!!!!!
✭ BOOK LINKS ✭
(Click book cover for Goodreads link)

♕ The Sordid Promise ♕
We get a glimpse of Eric's dirty mouth here! ;)
"You owe me ten thousand dollars."
"Do you want that in cash...or check?" I asked.
"I

'

m very serious about clearing my debts."
He examined me for a few minutes of silence. "I

'

m having a low-key housewarming party on Saturday."
"Seems all you do is party."
"There's nothing wrong with wanting to celebrate on my downtime."
"Only if it

'

s all the time."
"Which it

'

s not. Stop making statements like we're best buds who've known each other forever. More to the point, watch that mouth around me."
I cleared my throat, hoping to regain control of the antagonistic tone he nearly succeeded in eliminating. "Were you going to invite me to this party? —because I don

'

t do

social gatherings."
"Nikki. I get it. I know what you

'

re going through. The way you're behaving is not going to do you well. You can't close yourself off from everyone.

Janet

told me that you have no other family or friends to be found anywhere. I

'

m trying to be friendly here. I really don't want to continuously pull the asshole card to get you out of your bitch mode."
"Isn

'

t that a conflict of interest?"
"Your mother isn't my patient. I'm…doing her a favor."
"Whatever that means. The answer is no."
"I just shot out a number. The camera was worth more than that. How are you going to pay off a priceless debt?"
"Are you always such a bitch? Or am I the lone recipient of this attitude?"
"Are you always a cocky ingrate who answers the door for strangers half-dressed?"
"I'm the ungrateful one?" he asked through an incredulous laughter. "Really, Nikki? I see the way your eyes are glued to what I worked my ass off to achieve. See the way you're drooling at the big gift between my legs, too. I know it doesn't bother you. I think you're only pissed that I'm not completely naked right now." Slowly licking his lips, he stepped forward. His feverish form pressed against me as he looked down at me. He added in a sexually charged drawl, "I know I'm making your pussy the wettest it's ever been. Just wait. I'll get you wetter than a banana in a women's prison."
a Rafflecopter giveaway
By way of Rochester, NY and several other places before I landed in California. I live with my husband, dog, daughter, and a demon masquerading as a dog.

When I began writing (I know this sounds familiar, over dozens authors state this) it was an outlet for me. Not only that, I was creating fan fiction before I knew what fan fiction was. Eventually, my writing evolved into standalone worlds with standalone characters.

While I write across genres (I find it hard to stick to one genre), I do have an archetype when it comes to the female protagonist -- they have to have certain type of strength, strong convictions, and layered personalities. There will often be a lot of darkness and depth to my stories, but I don't see the point in writing vapid characters who are thrust into "safe" situations.

Check her out in these sites:
✻ ✻ ✻