Released: March 24th, 2014

Is eight weeks enough time to earn back the love of someone you've betrayed...the only one you've ever loved?

Shelly has been in love with Cal since they started dating in eleventh grade. Despite everyone saying that the odds were against them, they got married after graduation and built a life together. Now, six years later, she is faced with the ultimate betrayal. Devastated, her first instinct is to call it quits…

After a drunken binge at his best friends' bachelor party, Cal betrays the one person who has always been there for him, his wife, Shelly. Terrified and realizing she might divorce him, Cal must come up with a way to prove to her that his love is true…

Cal asks Shelly for eight weeks. Eight weeks to convince her that their marriage is worth the fight. Will Shelly be able to trust him again, or will their marriage end the way many others do when faced with opposition… In divorce?

8 Weeks is book 1 in the Time for Love series, but can be read as a stand alone.
"I've never seen a couple that belongs together the way that you do, you just have to keep doing what you're doing, and have faith."
*ARC PROVIDED BY AUTHOR FOR AN HONEST REVIEW*
Although I was angry with Shelly at the beginning of the novel,
8 Weeks
ended up being a pretty light, fast-paced read. I loved Cal's character the most due to his determination and passion for Shelly. The idea of the book was what caught my attention in the beginning, and also the cover, but it was Cal who urged me to keep reading.
Okay, let me begin my admiration for Cal.
Cal reminds me so much of Steve Carrell in
Crazy, Stupid, Love.
His name was Cal there too so I kept picturing him throughout the book. And this gif is just so him: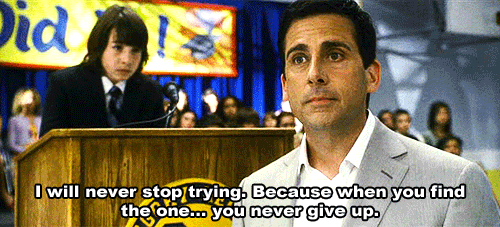 Well, Cal seems hotter and much younger in the book than Steve Carell (although he's pretty okay). But still, his character is so much like Cal in CSL by the end of the movie.
And I love how Cal doesn't turn completely pussy-whipped because he made one mistake. He doesn't cry in a fucking corner about how miserable his life is. Instead, he gets up off his ass and works to win Shelly's heart back. Unfortunately, I was hoping the dates would be more fun and exciting and more planned out.
But Shelly? Sweet Jesus Christ. This woman will drive me over the edge.
This quote describes Shelly through and through in the beginning.
"Shit, Shel, we haven't discussed anything at all. You won't accept my calls. You won't see me. You're just jumping straight to ending it. I mean, have you thought of counseling or anything? I'll do whatever it takes, Shelly."
This actually describes both Shelly and him. Shelly, like Cal said, was "jumping straight to ending it". She didn't even give a shit about what he had to say or consider how it was a drunken mistake. Hell, he wasn't even sure that he cheated her. But did she care? Noooo.
But here, we also see how much effort Cal is trying to put into it. He's trying to win her back.
AND AAAH SHE'S SO FREAKING ANNOYING. I hated her even more when she said:
I wished whole-heartedly that Cal had never went to Vegas and fucked up our lives. His indiscretion was affecting everyone around us and I wanted to rail at him for being such an idiot.
Oh my God and I found this gif, I just burst out laughing at how accurate this is.
In conclusion, pretty good read but I hated Shelly.
MY RATING:
3.5 APPLES!!!!!
✭ BUY LINKS ✭
(Click book cover for Goodreads link)

♕ 8 Weeks (Time for Love #1) ♕
Aaah, this is the start of it all :")
Cal's POV
"I'm sorry, I don't want to make it harder, and I don't want to fight with you," I implored. "But I will fight for you, Shelly. Give me a chance to."
She was shaking her head again, and a plan formulated in my mind.
"Give me eight weeks," I said desperately.
"I'm not going to live with you for eight weeks, Cal."
"No, I get that," I responded. "Give me eight Saturdays. Eight dates where it's just the two of us. Give me time to show you why we're so good together, and that I'm willing to bend and compromise to make our marriage work."
Shelly looked at me thoughtfully.
"One week for each year that we've been together."
a Rafflecopter giveaway
Award-Winning Author Bethany Lopez began self-publishing in June 2011. Since then she has published various YA and NA books. She is a lover of romance, family, and friends, and enjoys incorporating those things in what she writes. When she isn't reading or writing, she loves spending time with her husband and children, traveling whenever possible.

Check her out in these sites:
✻ ✻ ✻