Released: March 25th, 2014

There are two kinds of people in the world. The ones who look first, and the ones who leap. I've always been more of a looker. Cautious. A planner. That changed after I met Drew Evans. He was so persistent. So sure of himself – and of me.

But not all love stories end happily ever after. Did you think Drew and I were going to ride off into the sunset? Join the club. Now I have to make a choice, the most important of my life. Drew already made his –in fact, he tried to decide for the both of us. But you know that's just not my style. So I came back to Greenville. Alone. Well, sort of alone....

What I've come to realize is that old habits die hard and sometimes you have to go back to where you began, before you can move ahead.

TWISTED picks up two years after Tangled's end, and is told from Kate's POV.
"If you can make it through the rough, unexpected times? That light at the end of the tunnel is worth all the shit you had to wade through to get there."
*ARC PROVIDED BY AUTHOR FOR AN HONEST REVIEW*
Twisted is almost as good as the first book of the series. It's a novel filled with angst, super fucking hot sex, and a complete roller coaster of emotion. We see the world through Kate's eyes in this one as she undergoes a dilemma as Drew sets a major clusterfuck into motion. Emma Chase made me laugh, cry, horny, and also gave me the urge to throw my iPad out the window. Nevertheless, this is a fantastic sequel to a fantastic book.
HOOOOLY CRAP!!!
So, if you've been following my reviews, then you'd know how obsessed I am with guys fucking up in novels. I just love it when they grovel for forgiveness after their fuckup [wicked smile] but anyway, Drew fucked up here. BIG TIME.
When I read what he did, I was like
But at the same time, I was also like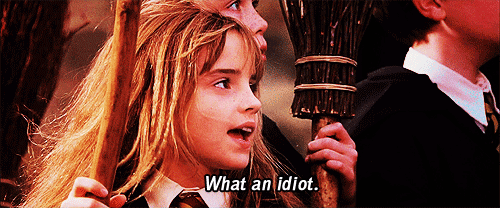 But I definitely enjoyed this book. Although I must admit, my expectations were really high for Twisted after the ah-may-zing Tangled, this book slightly disappointed me. I still absolutely loved it though. The characters stayed true to themselves and I liked how they were sometimes independent but they also needed each other in a way.
I liked Kate in this book because, well, she's such an admirable character. Her strength but also her compassion and love for Drew is what fueled her to keep going, to persevere through the relationship despite the troubles.
And I loved how realistic she is. She knows women. Tangled was true to the male character and I loved how blatantly straightforward it was in revealing men's thoughts and feelings. Here, we also experience the same but with women, which makes me love Emma Chase because she knows how to delve into opposite sexes' minds.
For you guys out there who think looking doesn't hurt? You're wrong. Because we women don't think you're just enjoying the view. We think you're comparing, finding us lacking. And that stings. Like a paper cut on your eyeball.
I was just like, "YES YES! That. Is. It. MY GOD."
Kate's character enables us to empathize with her because we're technically empathizing with all women. She's such a strong yet vulnerable character who still desires independence in her life.
And Drew, since we only get to see his thoughts towards the end, is still funny enough. As always, he goes straight to the point, no bullshit. But he's similar to Kate like that. Loved him!
And their relationship? Aghhhhh



"But you came… for me. Why?"

His eyes drift across my face. It's the way he looks at me in the morning, when he wakes up before I do. It's the way he watches me, when he thinks I'm not looking. "Because I can't live without you, Kate. I don't even know how to try."
Do you hear that sound? That's the sound of my heart breaking.
Oh, but of course, Mackenzie and dinner at the Evans' always adds humor to this book



"Everyone—can I get your attention, please?" She beams at Steven and then goes on. "Mackenzie has an announcement she'd like to make."

Mackenzie stands on her chair and proclaims, "My mom and dad had sex!"

The entire table is silent.

Until Matthew raises his glass. "Congratulations, Steven. It's like Halley's Comet, right? You only get to come every seventy-five years?"
MY RATING:
4.5 APPLES!!!!!
✭ BUY LINKS ✭
(Click book cover for Goodreads link)

♕ Tangled (Tangled #1) ♕
An adorably sweet excerpt that made me grin :D
I close my eyes and let his words wash over me.

Drew has an amazing voice. Calm and soothing - but devilishly seductive at the same time.

He totally could've gone into radio.


I press another button.

And this time his tone is teasing.

"Kaate, you're late. . Tell Delores to pick out her own god damn shoes. You've got a boyfriend who's

sitting in a big, frothy Jacuzzi all by his lonesome. Come home, sweetheart. I'm here waiting for you."

If only that was true today.

There's more - some are quick and to the point, some are downright dirty.

And I listen to every single one.

He doesn't say 'I love you' in any of them - but he doesn't have to.

I hear it in every word. Every time he says my name.
By day, Emma Chase is a devoted wife and mother of two who resides in a small, rural town in New Jersey. By night she is a keyboard crusader, toiling away the hours to bring her colorful characters and their endless antics to life. She has a long standing love/hate relationship with caffeine.




Emma is an avid reader. Before her children were born she was known to consume whole books in a single day. Writing has also always been a passion and with the 2013 release of her debut romantic comedy, Tangled, the ability to now call herself an author is nothing less than a dream come true.

Check her out in these sites: