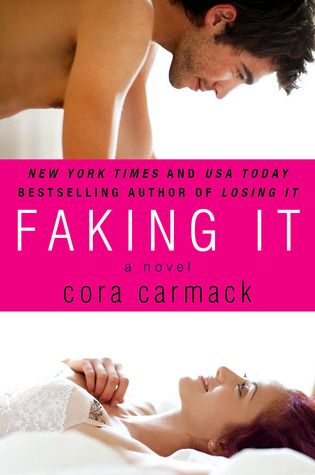 Released:
June 4th, 2013
Mackenzie "Max" Miller has a problem. Her parents have arrived in town for a surprise visit, and if they see her dyed hair, tattoos, and piercings, they might just get a heart attack. Even worse, they're expecting to meet her nice, perfect boyfriend, not a guy named Mace who has a neck tattoo and plays in a band. All her lies are about to come crashing down around her. Until she meets Cade.
Cade moved to Philadelphia to act and to leave all his issues back in Texas. So far, he's managed to keep all of his problems and had very little chances to take the stage. When Max approaches him in a coffee shop with a ridiculous request to pretend to be her boyfriend, he agrees to play the part. But when he plays the role a little too well, they're forced to keep the act going. And the more they fake the relationship, the more real it begins to feel.
Faking It
was one of the releases I looked forward most to this year
.
I abso-super-duper-lutely loved
Losing It,
which focused on Cade's best friend, Bliss and her man, Garrick (who's British!). I loved Cade in
Losing It
and here, I am abso-freaking-lutely, completely, head-over-heels
in love with him
. This book was funny, sweet and heart-wrenching. Cora Carmack didn't disappoint me again!
Faking It
made me cry my eyes out and laugh until I peed myself (metaphorically of course).
Guys, Cade, guys!
CADE WINSTON!
He was just the most adorable little fucker. He was snarky, funny and just gorgeous. If you loved Cade in
Faking It
, you are going to be addicted and head-over-heels with him here. He was the sweetest guy ever. We know more about his home life and also his issues in the past, which gives us a deeper understanding to his character.
Max Miller. Wow, she's definitely made it into my list of top-favorite-heroines of all time! She was so strong and tough, but when we see her family and go through her mind, we understand how
hard
it's been for her and how she's actually very
vulnerable and afraid
. I liked how Cora gave us two sides to her.
MY RATING:
4 GIVE-ME-CADE APPLES!!!
About The Author:
Cora Carmack is a twenty-something writer who's had her share of different jobs, such as boring ones (working retail), fun jobs (working in a theater), stressful work (teaching), and finally her dream job (writing). She loves placing her characters in the most awkward situations possible to help them get a boyfriend out of it.