WARNING: Mature themes, strong language and sexual content. Recommended for adult readers (18+) only!
Derek Alexander is an ex-Marine, ex-cop, and the top investigator in his field. Melissa Jones is a small-town girl trying to escape her troubled past.
When the two intersect in a bar in Arizona, their sexual chemistry is off the charts. But what is revealed during their "one week stand" only complicates matters.
Because she'll do everything in her power to get away from the past, but he'll do everything he can to hold her.
**COPY PROVIDED BY THE AUTHOR/INKSLINGER PR**
"Who knew, perhaps it was possible the road to anywhere could turn into a road to somewhere. For both of us."
I LOVED IT! I ABSO-FREAKING-SUPER-DUPER-LUTELY LOVED IT!
One to Hold
is a quite fast-paced standalone romance. It was a fantastic debut novel. This novel hooked me in and kept urging me to turn the pages to continue to read and read and read. I got the plot twist I always want in a book and the happily ever after. Brilliant!
God, I love finding new authors who are just so freaking awesome!
One to Hold
was so beautifully written and the sex?
I adored how the story developed. Melissa wasn't on one of those spend-money-on-useless-shit kind of girl when she went on the spa retreat. I thought that she was at first until she returned home and we finally figure out why she needed to get away from her shitty home life.
Then there's Derek
[cue a thousand swooning ladies]
He is smokin. He can be super sweet and super hot in bed! That's one talented man. He is a cop, marine and businessman. Did I mention that he was a freaking MARINE?! I'm a sucker for marines.



Derek: "Two glasses of your best cava."

Melissa: "Cava? That's sort of a celebratory drink, isn't it?"

Derek: "So let's celebrate."

Melissa: "Did you get a promotion or something?"

Derek: "I met you."
Cheesy? I know but I swooned at that okay.
The story was fast-paced, which I'm not usually a fan of, but the fact that the characters acknowledged it made it better.
"If things were different, I'd tell you I love you right now." – Melissa
Then Derek *le sigh*
What I would give you. If you hadn't already stolen it. – D.A.
HE GAVE HER A HEART NECKLACE OKAY. That is just the sweetest.
AND
SPOILER HERE!!!
That one fight scene in every book that I just love! The plot twist left me like this: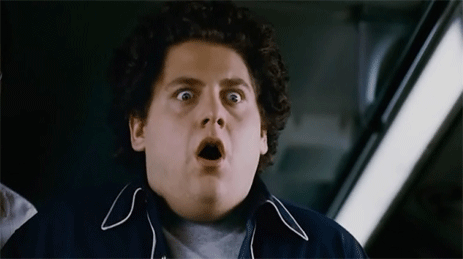 Damn, I loved that plot twist.
And conversations between Elaine and Melissa?



"I don't want anything he has," I said, sipping my own wine. "He's a bastard fucknut, and I hope I never see him again."

"A no-nut sphincter taster."
FANTASTIC BOOK, DEFINITELY RECOMMENDED!!!
Minor Faults:
MY RATING:
FOUR APPLES!!!!!
★ Goodreads | Amazon | B&N★
❤ READ MY REVIEW OF HER BOOKS ❤
And today, we have a special guest star! Melissa from One to Hold is here to answer some of our questions ;)
Thanks for coming in today, Melissa! Let's launch this interview with a question about the shmexy man in your life. What is your favorite thing about Derek?
Hard question! Of course, I love that he's gorgeous and sexy and takes what he wants, and that he's this big strong guy ready to protect me… But I also love that he has this tender side he doesn't show to anyone. He's really amazing.
That he is *winks* How about you? If you had to describe yourself with one word, what would it be?
Me? Well, I guess I'm braver than I realized—in many ways.
Tell us about your favorite date with Derek.
We've had many wonderful dates since we've been together, but my absolute favorites were our very first ones in Arizona, sitting by the fire-pit, my head on his shoulder, cautiously getting to know one another. We thought it was our only chance, and it was electric.
Forgiving is easier than forgetting, were you able to really forgive and forget what Derek did?
Yes. I am now. At first, I was very hurt and unable to trust anyone, but I understand now what he was thinking and who he really is. And I love him.
Thank you so much for being here today!
Thank you for having me here!

A $10 and $5 Amazon Gift Card and a "Get Lucky" surprise gift! Enter below:
Tia Louise is a former journalist, world-traveler, and collector of beautiful men (who inspire ALL of her stories... *wink*)---turned wife, mommy, and novelist.
It's possible she has a slight truffle addiction. And she will never look at a family restroom the same way again.
ONE TO HOLD is her debut adult romance.
Check her out in these sites:
This tour is hosted by InkSlingerPr.