Released:
May 17th, 2013
Ian wasn't ready to meet Grace Holtsen. In no way was he prepared for her. But can you ever be ready for fate to step in? Can you ever be ready to meet the one person who will change your entire existence? Ian knew that Grace would change everything he was used to, but something about her made it worth it. For the first time somebody seemed worth the risk. Will Ian jump and let fate wait for him at the bottom? Hoping that it can somehow save him...hoping that Grace can somehow save him.
I don't think Grace is like most girls.
Maybe that's the thing that I can't put my finger on.
Maybe for the first time, I've met a girl that's unlike
anyone that I've ever known.
Grace, a single mother and owner of a Nashville recording company, met Ian Paul, a recent college grad and her new employee. The moment he entered her world, it turned upside down. She knew better than anyone that a relationship with Ian would never work. He was never supposed to fit into her life, and she was never supposed to show up in his. But what happened between them was something more than either of them ever anticipated. Grace was unprepared for how bad it would hurt when they were faced with something far more unexpected.
He stole the rest of my heart tonight. I
know that no matter what happens tomorrow, or days from
now, I'll never want it back.
I could never give it to someone else.
**COPY PROVIDED BY THE AUTHOR/ATOMR TOURS**
"Sometimes all we need is to have faith in the unexpected."
Unexpected
started out extremely slowly but then it progressed fast to make up time and it just blew me away in the end. I was captivated in the second half and kudos to you Dulaney-Glen! The book was so beautifully written and the plot twist in the end was brilliant!
I was bummed at first about this book because I thought it was going to be really boring and shit but then DAMN! I was definitely impressed. I loved it. I loved the characters. I loved the pace of the book. I loved the
freaking development!
Seriously, the plot twist? I really, honestly did not expect that to show up.
You could barely tell the age difference between the two but when Ian gets excited about something, you can see how much younger he is and I liked how the author emphasized that.
When they went to Graceland (which is totally adorable since it was her name), it was his first time and he was super pumped about it.
We stop at the brick wall outside the gates of the house and i reach into my purse and pull out a black permanent marker. I hand it to Ian and his face lights up as he realizes that he's going to get to sign the wall at Graceland like thousands of others have done.
God, Ian is the cutest little fucker.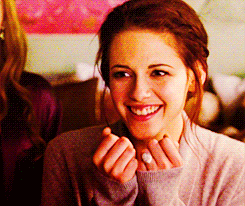 I also adored Grace's character because she was this awesome, strong independent woman who's raised Milo so well and she did it alone.
So I was really happy when she finally got her "happily ever after" that she never really expected. She really deserves it after all the hard work she's done.
IAN, UGH, CAN I KISS YOU???
"I would stand here holding you for as long as you would let me." – Ian
Le sigh. I want an Ian.
But the freaking plot twist? I could hear my heart breaking into tiny little pieces.
AND FINALLY TO END THIS REVIEW, I SHALL GIVE YOU A QUOTE FROM NANNY NINA (whom I totally love because she's fucking awesome) ;)
"Yeah. Rode the pony. I know it's been a while for you. You're so picky with your ponies. You only ride the best thoroughbred ponies… no petting zoo ponies for you."
Minor Faults:
MY RATING:
4 I-WANT-IAN APPLES!!!!!
★ Goodreads | Amazon | B&N | Smashwords ★
✖✖✖ GIVEAWAY

✖✖✖
The author is giving away these fabulous items below and you can enter in the rafflecopter ;)
(2) Print copies - US Only
(2) eBook copies gifted from Amazon/Barnes & Noble
(1) $25 Amazon Gift Card
(2) Swag giveaways - US Only
About The Author:
K. Dulaney & J. Glen, sisters & authors.
K. Dulaney was born, raised, and still resides in the Mountains of North Carolina. She is the proud mother to an amazing little boy, and happily married to her high school sweetheart. Dulaney attended Southern Universities and obtained her Bachelor's Degree in Psychology and a Masters in Family Studies. Her passion for reading and books began at very early age, and Dulaney dreamed of one day writing stories of her own. Partnering with her sister, J. Glen, they began a journey that has exceeded their expectations and proven that through hard work and determination, that dream can be a reality.
J. Glen is a North Carolina native currently residing in a small mountainous town. She attended an East Coast university and obtained a degree in Communication and Journalism. With an interest in writing at a young age, Glen had one idea of the perfect career and now, along with the help of her sister, she's embarking on a journey to achieve just that.
Check them out in these sites:
Website | Twitter | Facebook | Goodreads | Amazon Author
This tour is hosted by AToMR Tours, you can follow the tour here.